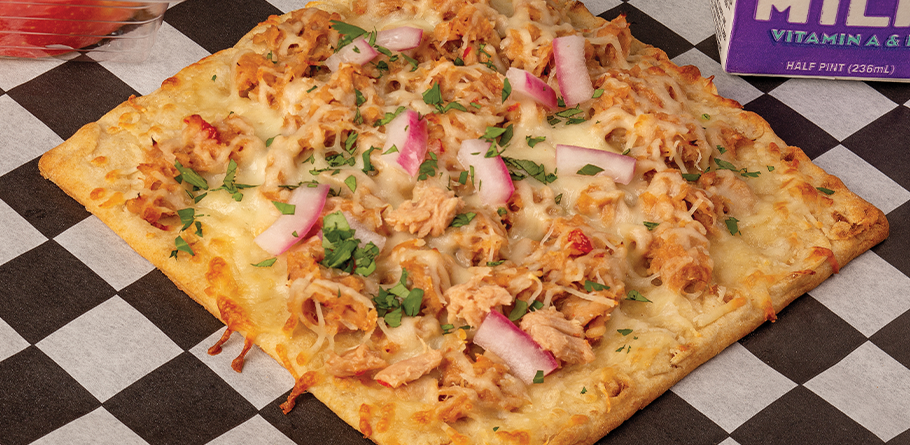 Recipe Yield: 20 servings
Ingredients:
1 pouch (43 oz.) StarKist® Chunk Light Tuna in Water
20 whole grain, 6x6 flatbread
¼ cup granulated sugar
¼ cup white vinegar
2 Tbsp. water
5 oz. raw, diced red onion
¼ cup chopped, fresh cilantro
1 cup mayonnaise
¼ cup nonfat, plain Greek yogurt
¼ cup unseasoned rice vinegar
¼ cup honey
½ tsp. cayenne pepper
½ tsp. red pepper flakes
1 lb., 4 oz. shredded Monterey Jack cheese
Directions:
Thaw the flatbread overnight at room temperature.
Line a sheet pan with parchment paper, and spray with pan release.
Preheat the oven to 400° F.
In a large bowl, prepare the brine by stirring together the sugar, white vinegar and water until the sugar dissolves. Cover and set aside.
Rinse the onions under running water. Drain well in a colander.
Cut the onions in half, then dice them into ½-inch pieces.
Mix the onions into the brine. To marinate, cover and refrigerate until needed. This may be prepared a day in advance.
Rinse the cilantro under running water, and drain it in a colander. Further dry it with paper towel.
Cut away the thick stems of the cilantro bunch, then finely chop. Refrigerate until ready to use.
Combine the mayonnaise, yogurt, rice vinegar, honey, cayenne pepper and red pepper flakes in a large bowl. Add the tuna, and using fresh gloves, crumble it into small pieces. Mix gently until all of the ingredients are combined.
Place 8 flatbreads on a full-size sheet pan. Top each flatbread with 2 oz. of the tuna mixture; spread it to cover the top of the flatbread. Top with 1 oz. of the cheese.
Bake at 400° F for 7–8 minutes. Remove the flatbreads from the oven, and top with 1 Tbsp. of the drained pickled onion. Sprinkle ~½ tsp. of chopped cilantro on top of each flatbread to garnish.
Servings Per Container: 20

| | | |
| --- | --- | --- |
| | Amount Per Serving | DV%* |
| Calories | 418 | |
| Total Fat | 18.9g | |
| Saturated Fat | 7g | |
| Trans Fat | 0g | |
| Cholesterol | 62mg | |
| Sodium | 801mg | |
| Total Carbohydrate | 36g | |
| Dietary Fiber | 3.1g | |
| Protein | 27.3g | |
*The % Daily Value tells you how much a nutrient in a serving of food contributes to a daily diet. 2,000 calories a day is used for general nutrition advice.