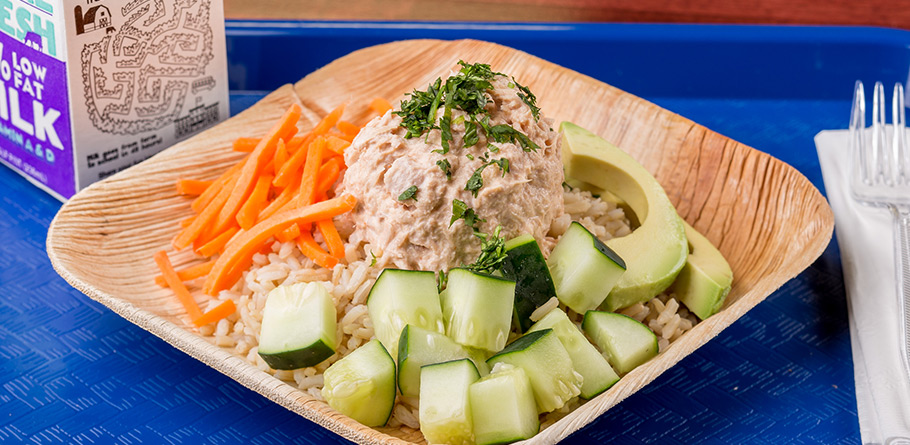 Ingredients:
20 cups Rice, brown, cooked
1 cup Sugar, granulated
1/2 cup Vinegar, distilled
1/4 Water
9 oz Carrots, raw, shredded
1 lb 13 oz Cucumber, with peel, raw, EP
3 Tbsp + 2 tsp Cilantro, EP
1 cup Greek yogurt, plain
1 cup Mayonnaise
1/4 cup Sriracha
2 tsp Soy sauce, low sodium
1 StarKist® Chunk Light Tuna in Water, low sodium, 43 oz pouch
1 lb 11 oz Avocado, fresh, Florida, EP
1/2 cup Lemon juice
Directions:
Prepare brown rice according to manufacturer's instructions and set aside.
In a large bowl, prepare the brine by stirring together the sugar, vinegar and water until the sugar dissolves. Mix the shredded carrots into the brine. To marinate, cover and hold in the refrigerator until service. This may be prepared a day in advance
Weigh then rinse cucumber under running water. Drain well in a colander.
Dice cucumber into ½" pieces. Hold in the refrigerator until ready to use.
Rinse cilantro under running water and drain in a colander. Further dry cilantro by rolling in a disposable paper towel.
Cut away thick stems of cilantro bunch, then finely chop. Hold in the refrigerator until ready to use.
Combine Greek yogurt, mayonnaise, Sriracha and soy sauce in a large bowl. Add undrained tuna and using fresh gloves, crumble into small pieces. Mix gently until all ingredients are combined.
Weigh and wash avocados. Cut avocados in half and remove seed. Using a spoon, scoop out flesh and cut into ½ inch slices. Dip slices in lemon juice to prevent browning. Hold in the refrigerator until ready to use.
Assemble tuna poke bowls. Place 1 cup rice in bowl or container. Place 2 oz tuna salad using a packed no. 16 disher onto the center of the rice. Arrange ¼ cup cucumbers around one side of the tuna salad to cover rice.
Place ¼ cup drained pickled carrots using a no. 16 disher on the other side of tuna salad. Place 2 slices of avocado around remaining side of tuna salad. Garnish with ½ tsp cilantro. Serve immediately.
Servings Per Container: 20

| | | |
| --- | --- | --- |
| | Amount Per Serving | DV%* |
| Calories | 450 | |
| Total Fat | 14.79g | |
| Saturated Fat | 2.48g | |
| Trans Fat | 0g | |
| Cholesterol | 29.16mg | |
| Sodium | 266.72mg | |
| Total Carbohydrate | 60.81g | |
| Dietary Fiber | 4.02g | |
| Protein | 20.70g | |
*The % Daily Value tells you how much a nutrient in a serving of food contributes to a daily diet. 2,000 calories a day is used for general nutrition advice.