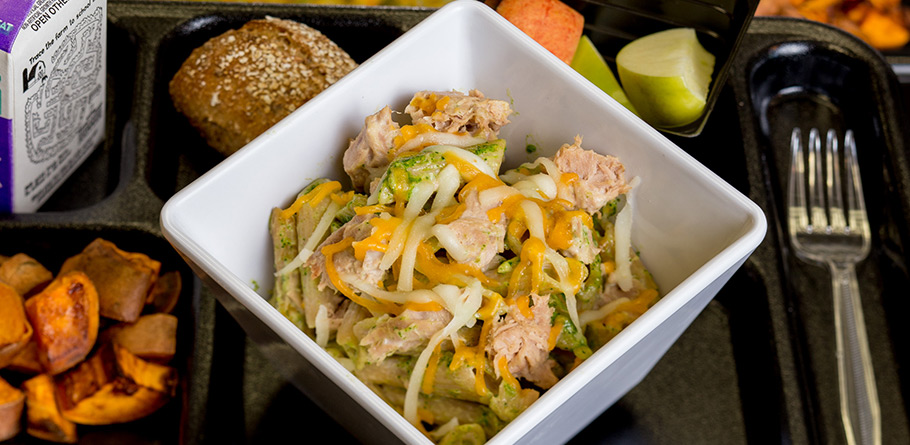 Ingredients:
4 oz Spinach, raw
1 cup Cheese, Parmesan, grated
1/2 tsp Garlic, granulated
1/2 cup Oil, olive or canola olive blend
3 lbs 2 oz. Pasta, penne, whole grain
1 StarKist® Chunk Light Tuna in Water, low sodium, 43 oz pouch
2 qts Sauce, alfredo*
4 oz Cheese, mozzarella, shredded
*Alfredo sauce is not credited in meal contribution.
Directions:
Preheat oven to 350° F.
Prepare pesto. Weigh prewashed spinach. In a food processor, add spinach, parmesan cheese, and garlic. Pulse until chopped. While the blender is running, add oil. Continue until all ingredients are combined and smooth.
Store pesto in the refrigerator if not using immediately to prepare pasta.
Prepare pasta: Place 4-inch-deep full-size perforated pan inside 4-inch-deep solid, full size steamtable pan. Place 3 lbs 2 oz of pasta per pan. Cover completely with water. Steam until pasta is al dente-fully cooked, but firm. Do not overcook.
Note: If cooking in very large batches, the kettle or tilt skillet may speed production.
In a large bowl, add undrained tuna and using fresh gloves, crumble into small pieces. Add pasta and alfredo sauce and gently mix to combine.
Spray 2-inch-deep steamtable pan with pan release. Pour tuna mixture into prepared pans. Using a small disher or tablespoon, drop scoops of spinach pesto over pasta. Using a spatula, swirl through pesto scoops to spread. Do not overmix.
For ideal color and appeal, pesto should be swirled throughout pasta, not mixed entirely with sauce.
Bake at 350° F for 10-12 minutes or until a minimum internal temperature of 165°F. To serve 1 1/4 c (9 oz), use a no. 8 disher to serve 2 scoops and a no. 16 disher to serve 1 scoop.
Servings Per Container: 25

| | | |
| --- | --- | --- |
| | Amount Per Serving | DV%* |
| Calories | 453 | |
| Total Fat | 18.83g | |
| Saturated Fat | 6.91g | |
| Trans Fat | 0g | |
| Cholesterol | 40.77mg | |
| Sodium | 534.50mg | |
| Total Carbohydrate | 46.87g | |
| Dietary Fiber | 7.41g | |
| Protein | 26.37g | |
*The % Daily Value tells you how much a nutrient in a serving of food contributes to a daily diet. 2,000 calories a day is used for general nutrition advice.